Biography old
Kyle Horch B.Mus, M.Mus, DipGSMD, Hon RCM
Kyle Horch studied in Chicago at Northwestern University (B.Mus, M.Mus), where he learned with Frederick Hemke. He was awarded a BP North America Scholarship in 1986-87 to pursue postgraduate study at the Guildhall School of Music and Drama in London, where he learned with Stephen Trier. As a student and young professional musician, he won prizes in numerous competitions in Britain, Europe, and the USA. Since making his London debut in 1989 on the Park Lane Group series, he has performed as soloist at the Queen Elizabeth Hall, Purcell Room, British and World Saxophone Congresses, and many other venues in Britain and abroad.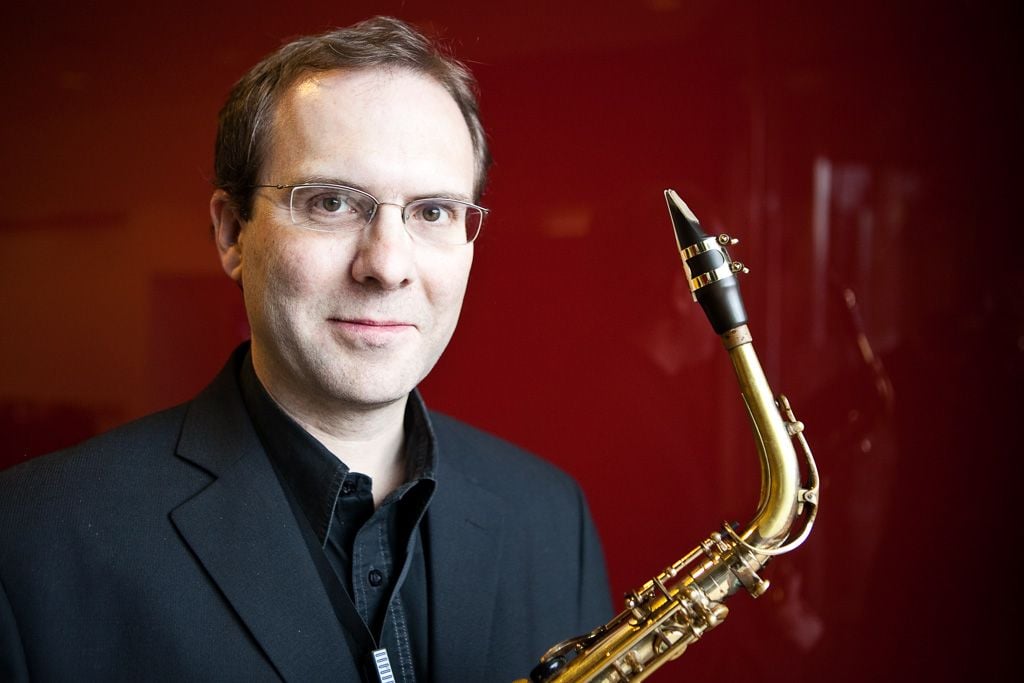 He has made several critically acclaimed recordings as a featured artist: ChamberSax (Clarinet Classics, 1999), exploring chamber repertoire for saxophone and other instruments, was rewarded with five stars in the BBC Music Magazine. AngloSax (Clarinet Classics, 2003) presents a programme of British and American recital music inspired by folksong, nature, and pastoral imagery. "This is a stunning album." American Record Guide. Returning to chamber music, Kyle formed his own ensemble to record Flotilla (Big Shed Music, 2009), a project focusing on music for unusual combinations of saxophones and keyboards, connected by themes of echo and memory: "This CD sparkles with energy and the playing is terrific." The Observer www.flotilla.org.uk Other recordings include two CDs of music by the composer Ian Stewart on the Music Chamber label - San Gejtanu (2008) and Islas (2010), Timothy Salter's Chameleon on Usk Recordings (2016), John Carmichael's Aria and Finale for his Sea Changes album on ABC Classics (2004), Roderick Elms' Cygnopations and Il Cygnet for his Moody Moves album on the Herald label (2012), and the 2006-7 Grade 8 Saxophone Syllabus for the Associated Board of the Royal Schools of Music (2006).
Apart from his own projects, Kyle maintains an active career as a freelance musician across a wide range of chamber, orchestral, contemporary, and light music. He is a member of the chamber ensemble 'Counterpoise', which since its formation in 2008 has commissioned and premiered works by Edward Rushton, John Casken, David Matthews, Charlotte Bray, and Jean Hasse, performing at venues such as Kings Place and St. George's Bristol, as well as at the Cheltenham, City of London, Newbury, Buxton, Brighton, Deal, Petworth, and Ulverston Festivals. Their recording, Deadly Pleasures, was released on the Deux-Elles label in 2013. www.counterpoise.org.uk Orchestral work has included concerts, tours, broadcasts, and CD recordings with the Royal Philharmonic Orchestra, City of Birmingham Symphony Orchestra, Birmingham Contemporary Music Group, Bournemouth Symphony Orchestra, Birmingham Royal Ballet, Rambert Dance Company, London Symphony Orchestra, London Philharmonic Orchestra, Philharmonia Orchestra, Mariinsky Theatre Orchestra, Royal Opera House (Covent Garden), Music Theatre Wales, Garsington Opera, BBC National Orchestra of Wales, and many others. Kyle is lead saxophonist with Michael Law's Piccadilly Dance Orchestra, playing music from the American songbook - Gershwin, Cole Porter, Irving Berlin, Rodgers & Hart - mixed with early jazz arrangements by Duke Ellington and Fletcher Henderson, as well as songs by British contemporaries such as Ray Noble and Noel Coward - at concerts, private engagements, a residency at London's Savoy Hotel 1997-2003, and on six recordings. The Orchestra is featured in two BBC television documentaries which have been broadcast worldwide: Len Goodman's Dancing Feet (2012) and Len Goodman's Dance Band Days (2013). www.pdo.org.uk
Committed to music education in all its forms, Kyle has been a saxophone professor at the Royal College of Music in London since 1991. In addition, he is Visiting Saxophone Consultant at Birmingham Conservatoire, and saxophone teacher at Royal Holloway, University of London. Kyle participates frequently in outreach projects in schools, most often for Birmingham Contemporary Music Group. Since 2017 he has led the Saxophone Summer School at MusicFest Aberystwyth. www.musicfestaberystwyth.org From 2005-2016, he taught annually on the Clarinet and Saxophone Summer Course at Hindhead Music Centre in Surrey. As a writer, he contributed chapters on saxophone technique and teaching to The Cambridge Companion to the Saxophone (Cambridge University Press, 1999). He has given performances and masterclasses at saxophone events such as the SAX 15 Festival in Amsterdam (2015) and the Singapore Saxophone Symposium (2016, 2018); he has also given many other masterclasses in Britain, France, Holland, Norway, Ireland, Belgium, Switzerland, Australia, and the USA.
In 2010 he was a jury member at the '5th International Competition Adolphe Sax', the most prestigious international competition for saxophonists, held every four years in Dinant, Belgium.
In recognition of his many achievements as a performer and teacher, Kyle was appointed to the honorary position of Vice-President of the Clarinet and Saxophone Society of Great Britain in 2016.